The 20 Best Board Games for 2023
The Top Games You Must Try In 2023.
Looking to find some exciting games to play with friends and family, but fed up with the usual suspects? Then we've got a whole world of awesome board games that suit every occasion and not just Christmas.
From a laid-back evening with friends look for a fun party game that's easy to pick up and guarantees some hearty laughs. For those who want something more stimulating, dive into a strategy game. Test your wits against friends and family to get those gears turning.
Make a night of it with family game night, choose a game that's friendly for all ages, from laugh out loud to challenging, there is plenty to play, and some even sneak in some valuable lessons about stuff like geography or money. No matter the occasion, there's a board game that's just right for you.
Let the games begin!
1. Gullible
Available:
Price: £24.99
Players : 2-10
Age: 12+
Rating: ⭐⭐⭐⭐⭐
Reasons To Like:
+ Levels The Playing Field By Allowing Players To Make Up Answers.
+ Adapts Well To Various Group Sizes, Accommodating Up To 10 Players Or Even Functioning As A Two-Player Game.
Reasons To Avoid:
- May Not Appeal to Trivia Purists.
Description:
Gullible is a hilariously creative quiz game that adds a unique twist to the classic trivia experience. In this party game, wit, imagination, and a touch of bluffing are your primary tools as you strive to outwit your opponents.
The game revolves around outlandish questions where players are tasked with creating fake answers that are more believable than the actual truth. Each round, both teams generate two fictitious facts, attempting to deceive their rivals. The stakes are high, as each team then places their betting chips on the answers they believe are correct.
Here's the catch: all chips wagered on fake facts are permanently lost, and the team that skilfully retains their chips the longest emerges victorious. It's a balancing act of strategy and deception, forcing players to decide whether to spread their bets or risk going all in.
What sets Gullible apart is that it's a trivia game where you don't need to know any actual answers – you simply make them up! Do you know what a baby platypus is called? Probably not, but you can concoct two fake answers that might sound more convincing than the actual term. It's a game that rewards clever creativity.
Gullible is great for family-friendly gatherings and adult game nights, up to 10 players can join in or it works brilliantly as a two-player game. It's perfect for dinner parties, family game nights, or even date nights.
2. Ticket To Ride Europe
Available:
Price: £36.29
Players : 2-5
Age: 8+
Rating: ⭐⭐⭐⭐⭐
Reasons To Like:
+ The game's strategic depth and decision-making keep players engaged throughout.
+ The Game's Rules Are Simple To Grasp, Making It Great For Newcomers And Experienced Board Gamers.
Reasons To Avoid:
- Waits Between Turns Can Be Lengthy.
Description:
Ticket to Ride Europe is a strategic board game set in early 20th-century Europe, where players embark on a thrilling adventure to connect iconic European cities by building their train routes. The objective is to claim railway routes by collecting and playing matching train cards, earning points for the length of their routes. Additional points come from fulfilling Destination Tickets and achieving the longest continuous railway.
The game is designed for 2 to 5 players and offers an average playtime of 30-60 minutes. It's addictive and simple gameplay means everyone can pick it up quickly. For added excitement, players can utilise smart technology to challenge Alexa for a unique gaming experience.
Ticket to Ride Europe is one of the best strategic board games, fast-paced, fun and an all-round versatile choice for family and adult game nights.

3. The Traitors 2023 Special Edition Card Game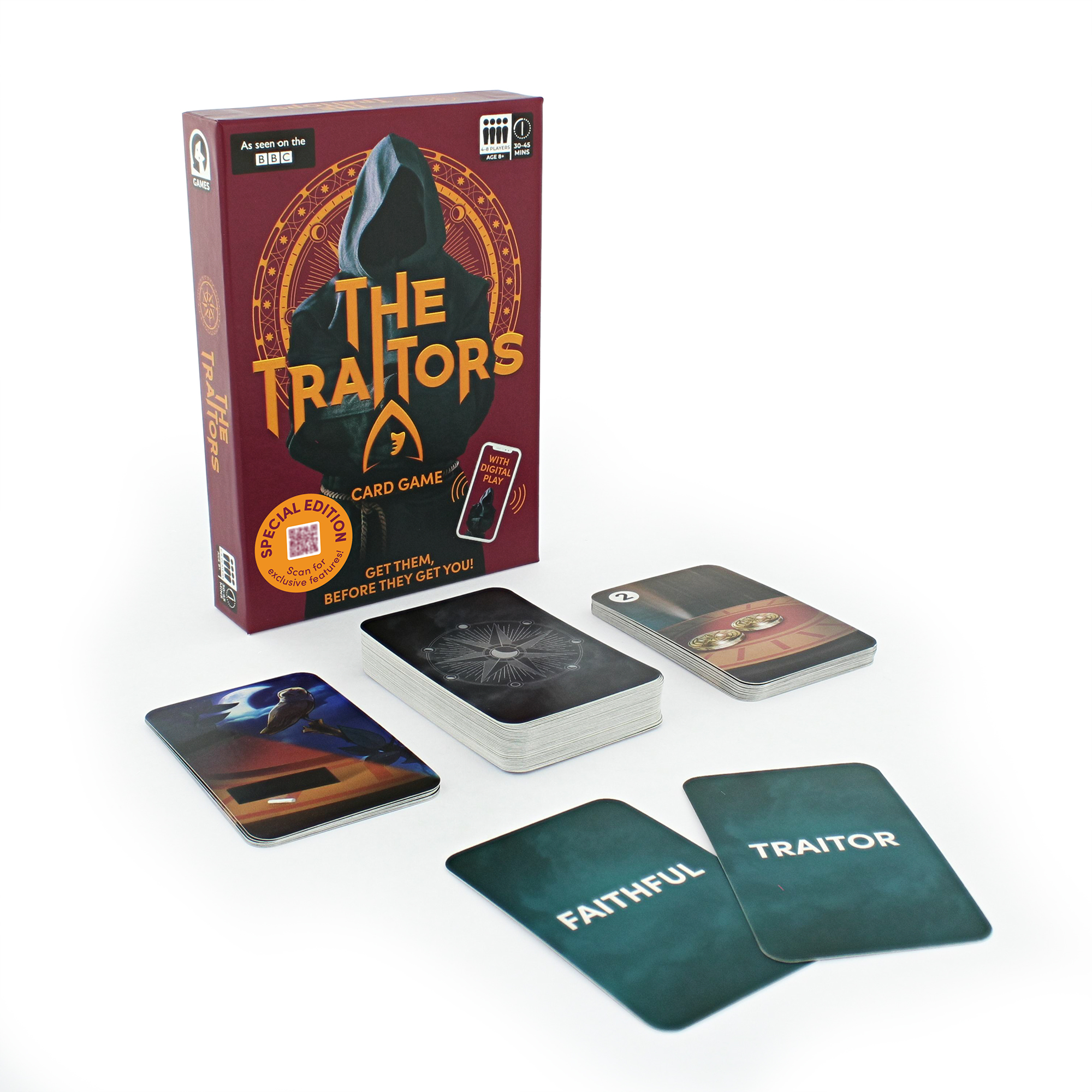 Available:
Price: £11.99
Players : 4-8
Age: 8+
Rating: ⭐⭐⭐⭐⭐
Reasons To Like:
+ Players Must Use Deduction, Communication, And Strategy To Identify And Eliminate Traitors Or Remain Hidden As A Traitor Themselves. 
+ The inclusion of optional digital features enhances gameplay and adds a modern twist to the card game.
Reasons To Avoid:
- Dependency On Player Count: The Traitors Relies On Having A Specific Player Count (4-8 Players) To Function Best.
Description:
The Traitors 2023 Special Edition Card Game, immerses players in a world of trust and treachery. In this game, participants secretly assume the roles of either the FAITHFUL" or TRAITOR" while collaborating to amass a central pot of gold. The Faithful aim to identify and eliminate the Traitors among them to claim a share of the gold, whereas the Traitors seek to remain undetected and eventually steal the prize.
Designed for players aged 8 and above, the game assigns one player as the Traitor in secrecy. Events unfold as players draw event cards, potentially resulting in murder or banishment. The Faithful must work together to identify those working against them, making each card draw full of suspense.
The game also offers optional digital features that enhance the experience, making it an ideal choice for family gatherings, get-togethers, and dinner parties, accommodating 4-8 players. The game includes player number cards, role cards, event selector cards, game deck cards, and access to digital gameplay.
To play, each player receives a number card and a secret role, with at least one Traitor in the game. Event cards are shuffled into the deck, triggering various in-game events. Players strive to accumulate gold while navigating murder, banishment, and intrigue.
Ultimately, if all remaining players are Faithful at the end of a round, the prize fund is shared. However, if Traitors remain, they seize the money. The game is played over multiple rounds, and the player with the most gold coins at the end of the agreed-upon rounds emerges as the winner, having successfully navigated the complex dynamics of trust and treachery in The Traitors.
4. Ghost Castle
Available:
Price: £16.99
Players : 2-6
Age: 6+
Rating: ⭐⭐⭐⭐
Reasons To Like:
+ Engaging Theme and Storyline offers an immersive and exciting paranormal investigation.
+ Interactive and Suspenseful Gameplay with the glow-in-the-dark ghosts and room traps adding an suspenseful elements to the game.
Reasons To Avoid:
- After multiple playthroughs, players become familiar with the traps and the find the optimal path to escape.
Description:
Get ready to run with Ghost Castle as you step into the shoes of paranormal investigators tasked with uncovering the truth behind the legendary Ghost Castle Your mission: to document any eerie occurrences within the castle's walls. Little did you know that the legends were real!
As you make your way through the castle, you inadvertently awaken the malevolent spirit of Count Spooksalot, who is hell-bent on imprisoning you within the castle for eternity. Your only chance is to race back downstairs, traversing trap-filled rooms where danger looms at every corner.
The game features five room traps, activated by the glow-in-the-dark ghost, adding an element of suspense and surprise to your escape. The box itself serves as the gameboard, providing a large 58x36cm play area. Setting up and dismantling the game is a breeze, with no need for batteries, making it accessible for players aged 6 and above.
Ghost Castle is for 2 to 6 players, creating a thrilling and competitive atmosphere as you strive to be the first to escape the clutches of Count Spooksalot's haunted abode. It's a spine-tingling adventure that promises excitement and suspense for players of all ages. Will you escape the Ghost Castle before Count Spooksalot traps you inside forever?
5. Taskmaster The Board Game Special Edition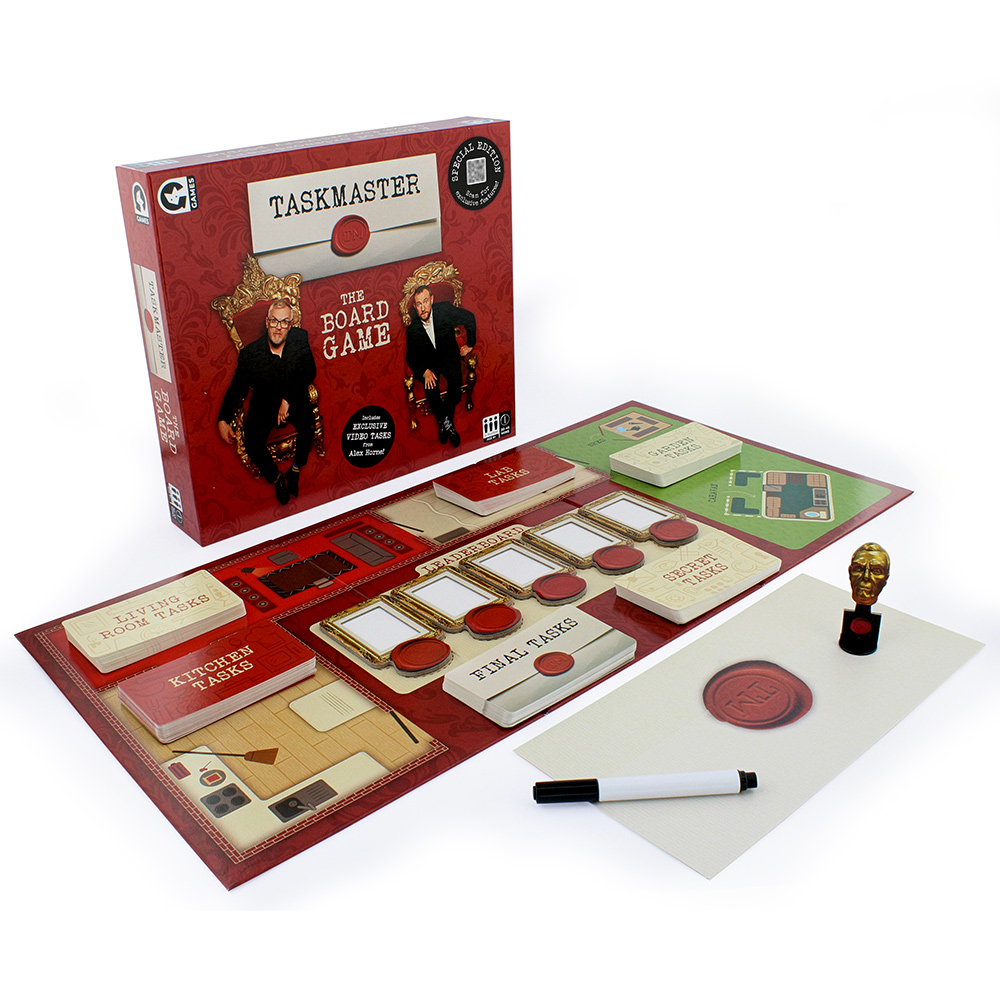 Available:
Price: £24.99
Players : 3-10
Age: 8+
Rating: ⭐⭐⭐⭐⭐
Reasons To Like:
+ Players Get To Enjoy The Same Absurd And Entertaining Challenges That Make The Tv Series So Popular.
+ Gameplay Is Always Fresh And Engaging, Preventing It From Becoming Repetitive Over Time.
Reasons To Avoid:
- Those Who Haven't Watched Taskmaster May Not Fully Appreciate The Game.
Description:
The Taskmaster Board Game brings the spirit of the TV show right to your own home. This exhilarating game is suitable for ages 8 and up, making it a perfect choice for family gatherings and friendly get-togethers. Play individually or as teams, taking on absurd tasks to earn points.
The board game is packed full of humorous and peculiar challenges, allowing players to test their skills and creativity just like the comedians they've watched on screen. With a variety of tasks and challenges, laughter is guaranteed. One player assumes the role of The Taskmaster and reads out tasks for others to complete within a set time. Points are awarded based on task performance, and the leader board keeps track of scores.
The winner is the player with the most points when the game concludes, earning the title of Taskmaster Champion and the coveted Taskmaster Trophy. The game promises hours of fun, laughter, and competitive excitement as you and your friends or family step into the hilarious world of Taskmaster.
The Board Game also includes video tasks and exclusive digital features. Players can scan a QR code on the Final Task cards to receive video tasks from Little Alex Horne himself, adding an interactive dimension to the game.
6. Scrawl
Available:
Price: £24.99
Players : 4-8
Age: 17+
Rating: ⭐⭐⭐⭐
Reasons To Like:
+ Hilarious and Light-Hearted Fun
+ Its Simplicity Allows New Players To Join In And Start Having Fun Almost Immediately.
Reasons To Avoid:
- Frustrating For Players Who Struggle With Drawing Or Deciphering Poorly Drawn Images.
Description:
Scrawl is an uproarious adult party game that celebrates the beauty of bad artistry. In this hilarious game, the worse you are at drawing, the more fun you'll have. With 240 zany scenarios, players dive into the world of absurdity, sketching everything from a 'Monkey Knife Fight' to 'Eating Spiderwebs.'
The gameplay of Scrawl is simple yet riotously entertaining. Participants start by drawing their assigned scenarios, but here's the twist: once you finish your sketch, you pass it to another player who must describe the drawing in front of them. As you can imagine, things take a comically chaotic turn as descriptions often veer far from the original intent.
The goal is simple: make your fellow players grin, laugh, or even guffaw. Points are awarded for the funniest interpretations and descriptions, turning the game into a laughter-filled competition.
This party game is easy to learn and quick to play, making it perfect for adult gatherings, teenagers, and special occasions like stag or hen parties. It accommodates 4-8 players aged 17 and up, providing a fantastic way to unleash your creative (or not-so-creative) drawing skills and dark sense of humour.
7. GoCaine
Available:
Price: £34.99
Players : 2-6
Age: 16+
Rating: ⭐⭐⭐
Reasons To Like:
+ An Adult Game For Strategic Thinking And Tactical Decision-Making.
+ Encourages Dynamic Player Interactions Through The Formation And Breaking Of Alliances.
Reasons To Avoid:
- The Multitude Of Rules And Strategies Can Be Overwhelming.
Description:
GoCaine is a strategic multiplayer board game that combines the ancient tactics of Go with elements of diplomacy and ruthless competition. In this adult game for 2 to 6 players, participants engage in a cutthroat turf war to establish the most profitable product distribution network.
Drawing inspiration from the traditional Asian games of Go (known as Weiqi in China, Baduk in Korea, and Go in Japan), GoCaine introduces area control mechanics. Players strategically deploy multipurpose security cells to dominate territories, creating the foundation for their product distribution empire.
The gameplay revolves around building, buying, shipping, and selling products, with an added layer of complexity as players invest in smuggling pipeline infrastructure to enhance the efficiency of their operations. Political influence can be leveraged to protect shipments and disrupt rivals' supply lines, adding a tactical dimension to the game.
Success is measured by who can move the most products efficiently and profitably. Along the way, alliances can be formed and betrayed, resulting in dynamic player interactions and unexpected twists in the quest for dominance.
Players must blend strategic thinking, negotiation, and tactical manoeuvring to emerge as the ultimate distribution magnate. It's a game where alliances are forged and shattered, where diplomacy is as crucial as strategy, and where only the savviest and most ruthless players can claim victory in this high-stakes, underground world of turf wars and illicit trade.
8. OutFoxed!
Available:
Price: £21.18
Players : 2-4
Age: 5+
Rating: ⭐⭐⭐
Reasons To Like:
+ Co-Operative Play Encourages Players To Work Together To Solve The Mystery.
+ Great For Family Games Nights.
Reasons To Avoid:
- Becomes Predictable After A While.
Description:
Outfoxed is a great game for children and families. The engaging board game that takes players on a chicken-chasing adventure to solve the mystery of Mrs. Plumpert's missing prized pot pie. As participants move around the game board, they collect clues and use a special evidence scanner to eliminate suspects. The ultimate goal: capture the cunning fox before it escapes!
Outfoxed is brilliant to play with its cooperative and non-competitive nature. Players must work together, pooling their deduction skills and attention to detail to catch the crafty culprit. This game offers an excellent learning opportunity, teaching valuable skills like estimating probability and the importance of collaboration in problem-solving. It is fantastic choice for family game nights. Its straightforward rules and clear mechanics ensure that players of all ages can enjoy it. With the element of surprise in each game, the replay value is remarkably high, guaranteeing that you'll want to return to the game for more chicken-chasing excitement.
Outfoxed promises hours of sleuthing fun, encouraging teamwork, critical thinking, and a sense of shared accomplishment as players work together to crack the case. Whether you're a young detective or a seasoned gamer, this charming and cooperative game offers an enjoyable and educational experience for the whole family. Happy sleuthing!
Success is measured by who can move the most products efficiently and profitably. Along the way, alliances can be formed and betrayed, resulting in dynamic player interactions and unexpected twists in the quest for dominance.
Players must blend strategic thinking, negotiation, and tactical manoeuvring to emerge as the ultimate distribution magnate. It's a game where alliances are forged and shattered, where diplomacy is as crucial as strategy, and where only the savviest and most ruthless players can claim victory in this high-stakes, underground world of turf wars and illicit trade.
9. Stupid Deaths
Available:
Price: £15.74
Players : 2-6
Age: 12+
Rating: ⭐⭐⭐⭐
Reasons To Like:
+ A Bizarre Way To Learn About Historical Trivia About Unusual Deaths.
+ Humorous and Social: The game's dark humour and witty scenarios create a light-hearted atmosphere.
Reasons To Avoid:
- Once A Player Is Touched By Death They Are Out Of The Game And Have To Wait Until A New Game To Play Again.
Description:
Stupid Deaths is a thrilling and amusing board game that combines knowledge, strategy, and a dash of macabre humour. Designed for 2 to 6 players aged 12 and above, it's a race against time and the Grim Reaper himself to reach the coveted Red space and avoid a comically unfortunate demise.
The gameplay is straightforward yet highly engaging. The first player draws a Stupid Deaths Card and reads out a bizarre scenario. Each player must then decide whether the scenario is a real historical death or a made-up one and reveal their choice by flipping their True or False Voting card. Correct guesses move players closer to home, away from the menacing Grim Reaper. However, incorrect guesses inch the Grim Reaper ever closer to claiming a player's piece.
The tension mounts as the Grim Reaper pursues players across the board. When he catches up, lands on, or passes a player's piece, that unfortunate soul is "touched by death" and eliminated from the game, unless they possess an Extra Life Token for a second chance.
Stupid Deaths is not only a race against Death but also a delightful test of knowledge and wit. With its blend of dark humour, wit and suspense, it's the perfect choice for game nights, offering endless entertainment as players navigate quirky historical trivia and strive to be the first to reach the Red space while avoiding Death's icy touch.
10. Stranger Things Upside Down 
Available:
Price: £49.95
Players : 2-4
Age: 12+
Rating: ⭐⭐⭐
Reasons To Like:
+ Cooperative Gameplay Encourages Teamwork Among Players As They Work Together To Confront Adversaries And Solve Mysteries.
+ Immersive And Nostalgic Experience For Fans Of The Show.
Reasons To Avoid:
- Once Both Seasons Are Completed, The Game's Scenarios And Challenges Become Familiar, Reducing The Excitement And Novelty.
Description:
Stranger Things: Upside Down The Board Game offers an immersive tabletop experience based on the hit Netflix series. Players step into the shoes of beloved characters from the show and collaborate to confront their adversaries in a cooperative gaming adventure.
This game provides two seasons of play, thanks to its double-sided board, allowing players to relive the events from the show's first two seasons in a tabletop format. It offers an engaging way to dive deeper into the world of Stranger Things and experience the mysteries and dangers firsthand.
One of the standout features of the game is its collection of meticulously crafted figures. With a total of 11 detailed figures, players can embody iconic characters like Dustin, Mike, Joyce, and Hopper, as well as face off against formidable foes like the Demogorgon and Demodogs.
Stranger Things: Upside Down is designed for cooperative play, encouraging players to work together to overcome challenges and threats, just like the characters in the series. Whether played with a group or solo, it offers an opportunity to immerse oneself in the supernatural mysteries of Hawkins, Indiana, and relive the thrills of Stranger Things in a fully immersive tabletop gaming experience.
11. Corks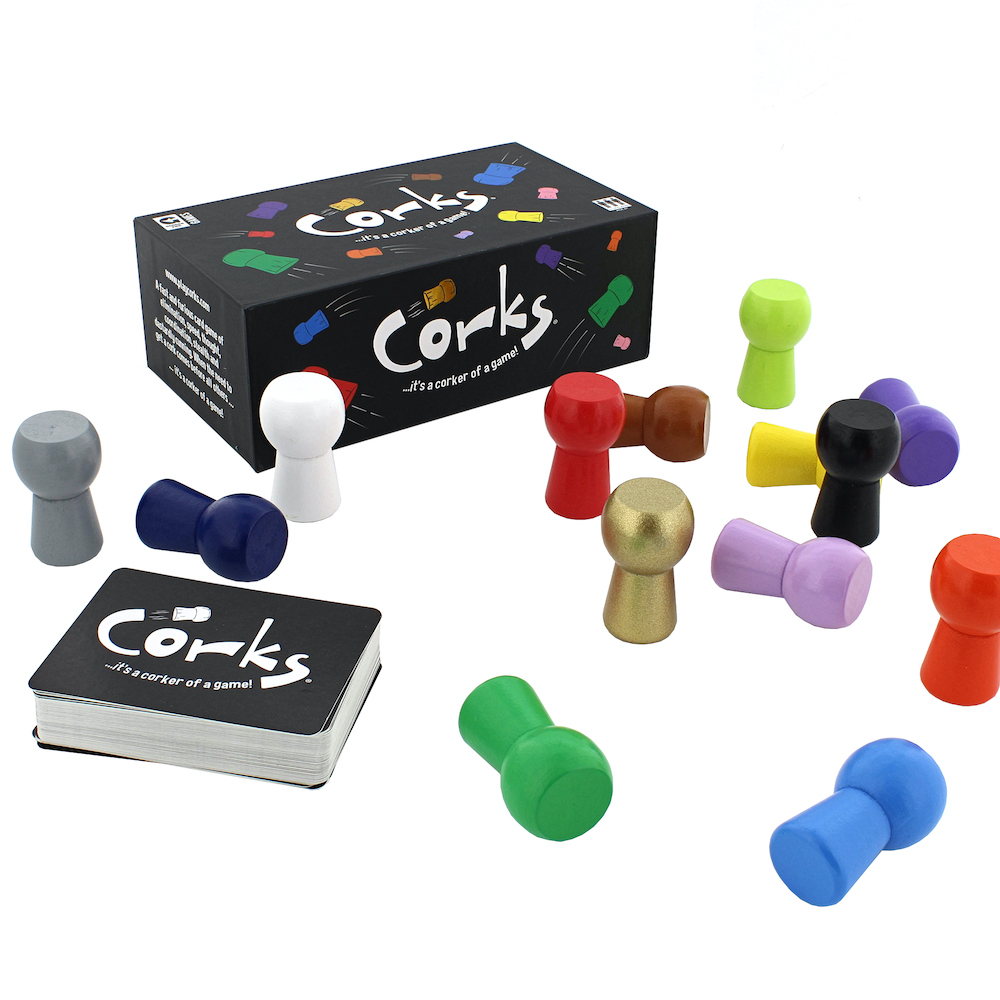 Available:
Price: £19.99
Players : 3-14
Age: 6+
Rating: ⭐⭐⭐⭐⭐
Reasons To Like:
+ Quick And Lively Gameplay, Making It An Excellent Choice For Gatherings And Parties.
+ Family-Friendly And Inclusive: Corks Is Accessible To Players Of Various Ages.
Reasons To Avoid:
- Not Great For Confined Spaces.
Description:
Corks is a lively and entertaining family card game that adds a twist of speed and coordination to your game nights. Designed for kids and adults alike, it's an ideal choice for gatherings and parties, accommodating 3 to 14 players.
The game's premise is simple yet exhilarating: players compete to complete a set of cards and be the first to grab a cork. It's a race against time, demanding quick thinking and swift movements to avoid elimination. The fast-paced nature of Corks ensures rounds of energetic and engaging fun, making it a fantastic addition to family game nights.
With 56 cards and 15 corks included in each game set, "Corks" offers hours of entertainment in a compact box. Its accessibility allows children aged 6 and over to join in on the action, making it a game the whole family can enjoy.
As a party game, Corks shines, offering an opportunity for friends and family to bond over amusing challenges and friendly competition. It's not just a game; it's a source of laughter and shared moments, making it a fantastic gift choice for both adults and kids. With Corks, you're in for a cork-popping good time at any gathering.
12. Risk
Available:
Price: £38.99
Players : 2-5
Age: 10+
Rating: ⭐⭐⭐⭐⭐
Reasons To Like:
+ The Integration Of An Alexa Skill Into The Risk Board Game Provides Players With A Unique And Immersive Gaming Experience.
+ Variety Of Gameplay Options: The Inclusion Of Five Different Ways To Play, Ranging From Classic Risk To Dragon Risk And Secret Mission Risk.
Reasons To Avoid:
-The Alexa Integration Introduces A Level Of Dependency.
Description:
The Risk board game has taken on a thrilling new dimension with the integration of an Alexa skill, adding an immersive voice-controlled element to the classic strategic conquest game. With the option to play using Alexa, players can now experience the game like never before, with sound coming from their paired Echo device.
One of the standout features of this version is the introduction of a dragon token. Players must contend with the menacing dragon, which threatens to ravage their troops. A fortunate roll of the dice can subdue this fearsome creature and free their territory from its grip, adding an exciting twist
Surprises await with the Alexa skill, players can encounter unexpected events that influence the outcome of battles. Alexa may send reinforcements or throw challenges that keep participants on their toes, creating an unpredictable and dynamic gaming experience.
Risk enthusiasts will appreciate the inclusion of five different ways to play, including Classic Risk, Dragon Risk, Secret Mission Risk, Risk for 2 Players, and Capital Risk. Each variant offers unique challenges and strategies, ensuring that players can enjoy hours of tactical conquest and global domination.
The Alexa-integrated Risk game not only brings the timeless strategy game to life in new ways but also introduces exciting elements like dragon tokens and unexpected events. With multiple ways to play, it is ideal for traditionalists and those looking for fresh challenges, promising an engaging and thrilling gaming experience.
13. Herd Mentality
Available:
Price: £24.99
Players : 4-20
Age: 10+
Rating: ⭐⭐⭐⭐
Reasons To Like:
+ Easy To Learn And Play: Herd Mentality Is A Game That Anyone Can Quickly Grasp And Enjoy.
+ With 4 To 20 Players It Suits Both Smaller Family Game Nights And Larger Gatherings.
Reasons To Avoid:
- The Game Relies On Guessing Rather Than Strategic Decision-Making.
Description:
Herd Mentality is a wonderfully entertaining party game designed for family and friends to enjoy during game nights. It's a game that's easy to learn, quick to play, and offers endless playability, making it a staple choice for gatherings and entertainment.
In Herd Mentality, players take turns flipping over question cards and must guess what their fellow family members and friends are thinking. The goal is to provide an answer that aligns with the majority's opinion. If you succeed, you win cows, but if your answer is the odd one out, you're left with the amusingly named "pink cow of doom."
This game boasts broad appeal, suitable for ages 10 and above, and can accommodate a wide range of players, from 4 to an impressive 20 participants. This versatility ensures that Herd Mentality can be enjoyed at various social gatherings, from intimate family game nights to larger get-togethers with friends.
Herd Mentality is a must-have addition to your collection of family board games, promising laughter, friendly competition, and a memorable gaming experience. Its simplicity, humour, and adaptability make it a top choice for those seeking a light-hearted and engaging game night activity that brings people together for hours of entertainment.
14. Letterpool
Available:
Price: £16.99
Players : 2+
Age: 14+
Rating: ⭐⭐⭐
Reasons To Like:
+ Excellent Choice For Mixed-Age Groups, Ensuring Everyone Can Join In The Fun.
+ Compact And Lightweight Design Makes It An Ideal Travel Game.
Reasons To Avoid:
- May Not Fully Satisfy Gamers Seeking Deeper Strategy Or Complexity.
Description:
Letterpool is a fantastic addition to party games for tweens and adults, elevating gatherings like Christmas, holidays, birthdays, bachelor and bachelorette parties to a new level of fun. This engaging card game is an instant classic for family and friends, ensuring that any occasion becomes a memorable game night.
The game is incredibly easy to set up and play, making it accessible for all. Players choose tiles and compete to be the first to shout out a word related to the card's topic, earning points and aiming for victory. Its straightforward rules allow for quick setup, so you can dive into the fun right away.
What sets Letterpool apart is its versatility as a travel game. Lightweight and compact, it's perfect for road trips, flights, or entertaining nights at home. Say goodbye to boredom during long journeys, as Letterpool promises entertainment on the go.
This game also makes an excellent gift for teens and adults alike. Whether it's for a secret Santa exchange or a stocking stuffer, it guarantees hours of laughter and amusement.
15. Dune Imperium
Available:
Price: £49.99
Players : 1-4
Age: 14+
Rating: ⭐⭐⭐⭐
Reasons To Like:
+ Must Play For Fans Of The Franchise
+ The Combination Of Deck-Building And Worker Placement Mechanics Sets Dune: Imperium Apart From Traditional Board Games
Reasons To Avoid:
-Hard To Learn And Overwhelming For Those Unfamiliar With The Dune Universe.
Description:
Dune: Imperium is a board game that draws inspiration from the rich legacy of Dune, encompassing both the new film adaptation from Legendary Pictures and the iconic literary series penned by Frank Herbert, Brian Herbert, and Kevin J. Anderson.
In this game, players assume the role of leaders of the Great Houses of the Landsraad, each vying for supremacy on the desert planet of Arrakis, known as Dune. The impending war serves as the central conflict, and players must skillfully raise their banners, marshal forces, and deploy spies to secure their dominance.
Imperium introduces a unique gameplay mechanic by combining deck-building with traditional worker placement elements. Players begin with identical decks and a distinctive leader card. As they acquire cards and tailor their decks, their strengths and strategies diverge. These cards dictate the placement of their Agents on the game board, affecting their military might, political influence, and relationships with key factions like the Emperor, the Spacing Guild, the Bene Gesserit, and the Fremen.
Unlike standard deck-building games, players don't play their entire hand at once. Instead, they draw a hand of cards at the start of each round and alternate turns with other players, deploying one Agent at a time. As the game unfolds, they'll reveal the rest of their cards to gain Persuasion and Swords, essential resources for acquiring cards and competing for rewards based on Conflict cards.
Dune Imperium presents players with the challenge of outmanoeuvring rivals in combat, navigating intricate political factions, and acquiring valuable "The Spice Must Flow" cards to lead their Great Houses to victory. This strategic and immersive gaming experience promises to transport players into the intricate world of Dune, allowing them to shape the fate of the desert planet.
16. Hues and Cues
Available:
Price: £24.99
Players : 3-10
Age: 8+
Rating: ⭐⭐⭐⭐
Reasons To Like:
+ Creative Gameplay Experience.
+ Encourages Players To Share Their Unique Perspectives.
Reasons To Avoid:
-Gameplay Can Become Repetitive After Several Rounds.
Description:
Hues and Cues is a captivating game that immerses players in the world of colours and communication. It challenges participants to make unique connections between words and hues, making it a vibrant and engaging experience.
In this game, players utilize only one and two-word cues to lead others to guess a specific colour from the 480 different hues displayed on the game board. The objective is to provide cues that are accurate enough to guide your fellow players to the target colour. The closer the guesses are to the designated hue, the more points you earn, adding an exciting element of competition.
What sets Hues and Cues apart is its celebration of the diverse ways people perceive and imagine colours. With everyone bringing their own perspective to the game, the challenge of connecting colours and clues becomes a delightful journey of discovery and creativity.
The game offers a fresh and enjoyable take on word association and colour recognition, making it an excellent choice for family gatherings, social events, or game nights with friends. Hues and Cues not only tests your ability to communicate with minimal words but also sparks intriguing conversations about the fascinating world of colours. It's a game that encourages both creativity and connection, ensuring that every round is filled with colourful fun.
17. One Night: Ultimate Werewolf
Available:
Price: £21.52
Players : 3-10
Age: 8+
Rating: ⭐⭐⭐⭐⭐
Reasons To Like:
+ Simple To Learn And Play.
+ Great For Families.
Reasons To Avoid:
-Dependent On Using The App.
Description:
One Night Ultimate Werewolf is the go-to party game for quick and engaging fun that you'll find yourself returning to time and time again. This game is all about simplicity, boasting so few rules that everyone can jump right in and start playing within minutes. Each player receives a single card with a secret role, aligning them with either the Villager or Werewolf team.
What makes One Night Ultimate Werewolf truly special is its integration with a free iOS/Android app that brings the game to life. The app guides players through the game, making it incredibly easy to set up and play. You simply select the cards in the game, press play, and the app walks you through each round, enhancing the overall experience.
The game offers a variety of role cards, and players can get creative by combining different roles. Each role comes with unique abilities that can dramatically influence the game's dynamics, whether they help the village team (like the Seer or Mason) or the werewolf team (like the minion).
Key roles like the Robber and the Werewolf add layers of intrigue to the game. The Robber has the power to steal another player's card and take on their role, while the cunning Werewolves must work together to mislead other players and keep their identities hidden.
With its quick setup, diverse roles, and engaging app integration, One Night Ultimate Werewolf offers an immersive and fast-paced party experience that will keep players coming back for more thrilling rounds of deception and deduction.
18. Shot In The Dark
Available:
Price: £11.99
Players : 2+
Age: 12+
Rating: ⭐⭐⭐⭐
Reasons To Like:
+ Great Fun.
+ Any One Can Guess The Answer.
Reasons To Avoid:
-Theme Is A Little Repetitive.
Description:
Shot in the Dark is a wildly entertaining party game that brings curiosity to life by posing intriguing, bizarre, and downright hilarious questions. Have you ever wondered about the gallons of white paint needed to cover The White House, the sprint record for someone over 100 years old, or the frequency at which a single man changes his bedsheets? This game invites players to take a daring guess at these and countless other quirky queries.
With hundreds of unusual questions, Shot in the Dark guarantees laughter and engaging discussions, whether you're a trivia master or a quiz novice. The gameplay is refreshingly simple: players make their best guess at the answer to a zany question, and the most amusing or accurate response wins.
This game is perfect for all ages, making it a fantastic choice for family gatherings, game nights, holiday parties, and more. The game's unpredictable questions level the playing field, ensuring everyone can participate and have a blast.
Shot in the Dark also makes for a fantastic gift, suitable for birthdays, Christmas, or any occasion where laughter and fun are on the menu.
19. Don't Be A Dik Dik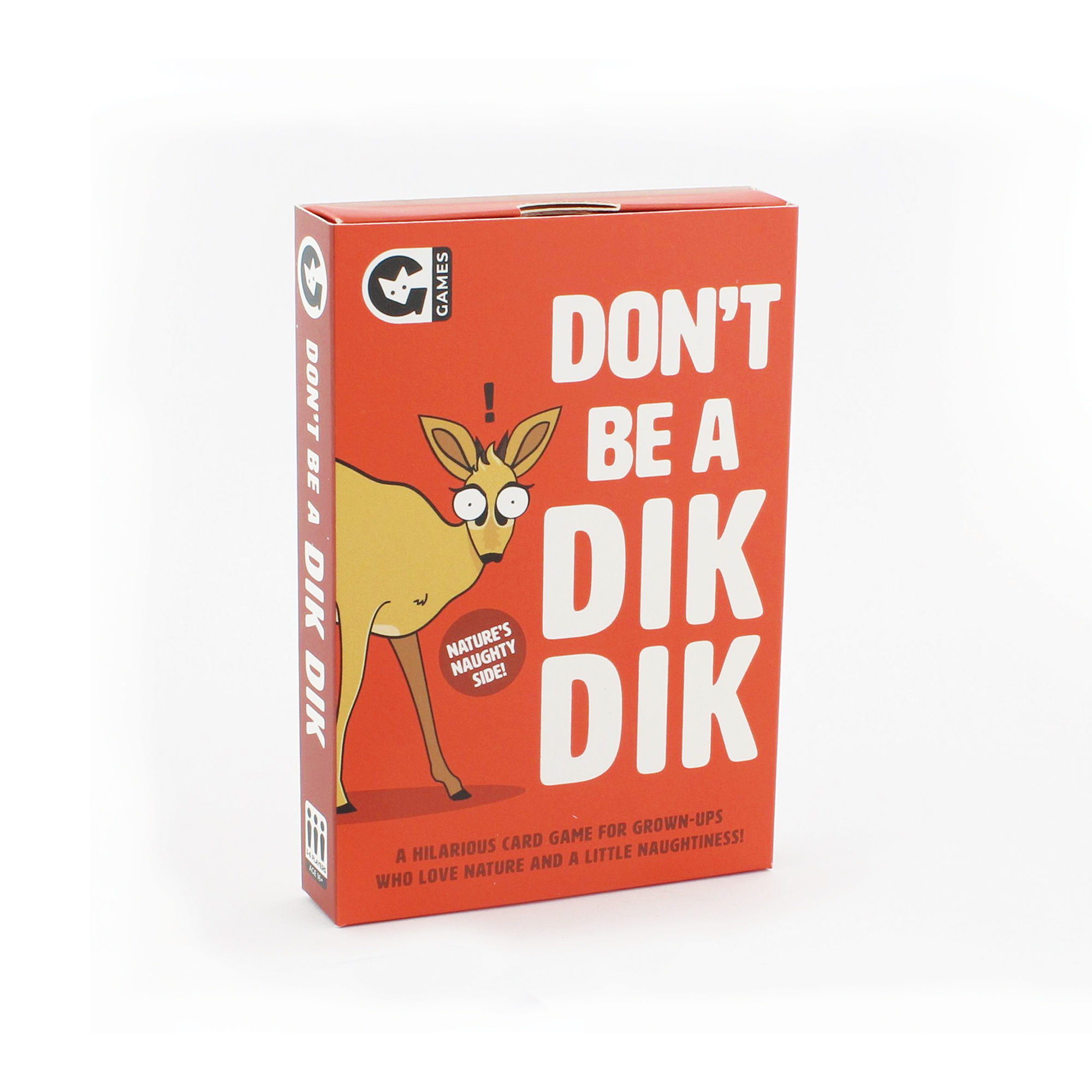 Available:
Price: £11.99
Players : 3-6
Age: 16+
Rating: ⭐⭐⭐⭐
Reasons To Like:
+ Great For Adults
+ Quick Game Play In Under 20 Minutes.
Reasons To Avoid:
-Not Suitable For Those Easily Offended.
Description:
Don't Be A Dik Dik is a rib-tickling card game designed exclusively for grown-ups who appreciate a blend of nature and cheeky humour. Intended for players aged 16 and up, this game is perfect for groups of 3 to 6 players and promises both strategy and laughter in a compact 15 to 20-minute gameplay session.
The game revolves around a quirky name-matching concept. Players take turns asking for specific cards to complete pairs, but these aren't your typical pairs. You might find yourself requesting a card featuring a "GIANT BEAVER" or "NIPPLEWORT" to complete your hand. Passing a card to the left after each turn keeps the game dynamic and hilarious.
The ultimate goal is to avoid being left with the Dik Dik card in your hand when all is said and done. The player who holds this card at the end of the game faces defeat. As the game nears its conclusion with only three cards remaining, the excitement intensifies during the bonus round known as Dik Dik Roulette, where players must carefully manoeuvre to avoid the dreaded Dik Dik card.
This travel-sized game requires no assembly, making it a fantastic icebreaker for gatherings and social occasions. Whether you're on holiday, at a pub, celebrating a festive event, attending work functions, or simply having a cosy evening with friends, Don't Be A Dik Dik is the perfect companion for a riotous round of naughty animal and bird name pairing that will have everyone in stitches.
20. Alice Is Missing
Available:
Price: £35.38
Players : 3-5
Age: 12+
Rating: ⭐⭐⭐
Reasons To Like:
+ Remote Play Connects Friends And Family.
+ Unique Play Experience
Reasons To Avoid:
-Games Take 2-3 Hours To Play.
Description:
Alice is Missing is a unique and immersive silent role-playing game that delves into the mysterious disappearance of Alice Briarwood, a high school junior in the serene town of Silent Falls, Northern California. In this engaging narrative experience, players step into the shoes of characters connected to Alice and use their phones to communicate via text messages as they unravel the enigma surrounding her vanishing.
The game unfolds within a single session, typically spanning two to three hours, making it perfect for a focused and captivating storytelling experience. While there's no formal game master, one player takes on the role of explaining and facilitating the game's rules.
In the initial 45 minutes, players craft their characters, establish their relationships with Alice, and define their connections with one another. The following 90 minutes transport players into the world of text message conversations between characters, where they work collaboratively to piece together the clues surrounding Alice's fate.
Alice is Missing offers a fresh and engaging approach to role-playing and storytelling. It's an excellent choice for remote play, allowing players to immerse themselves in a gripping narrative and engage in a shared experience of suspense and intrigue. The game includes 72 cards and a rulebook, providing all the tools needed for a memorable adventure into the unknown.
How We Made Our List:
Game Variety: We started by looking at all sorts of games. We wanted to make sure our list covered different types of fun, from strategy games to creative storytelling ones.
Play Again and Again: We checked if these games could be played over and over without getting boring. We know that family game nights are meant to be a regular thing!
Everyone's Invited: It was important to us that these games were welcoming for all. We wanted games where anyone could play, no matter their skill level.
Players: We looked for games that could handle different group sizes, whether it's just your immediate family or a bigger gathering with friends and relatives.
What People Say: We took a peek at what players and experts had to say about these games. If lots of people loved them, they made our list.
Learning and Fun: Some of these games are not just fun; they also sneak in some learning. We like games that challenge your brain while making you laugh.
Quality Stuff: We also paid attention to the quality of the game pieces. After all, a good-looking game can make the whole experience better.
So, there you have it! We put together this list to help you find the perfect game for your next family games night or get-together. Whether you're into strategy, creativity, or just good old-fashioned fun, we've got you covered.
When it comes to picking up some fantastic games, here at Ginger Fox is the only place to go. We have an awesome range of games that suit all sorts of tastes and preferences. Whether you're into quizzes, strategy, or good old family fun, We do something that'll tickle your fancy.